Jack and Mary Bayramian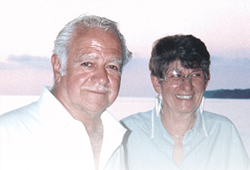 Mary Bayramian and Jack Bayramian's families both fled from Aintab, Turkey to escape persecution. Mary was actually born in Aintab and immigrated as an infant to the United States. They grew up near each other in Los Angeles and graduated together from Hamilton High School in West Los Angeles in 1939. They married in 1942. Jack served in the Navy during World War II.

After the War, the Bayramians moved to the San Fernando Valley, first living in Reseda, and later bought a Northridge house several blocks west of today's university campus. Jack had a 20-year career as a Pacific Telephone and Telegraph Company technician.

A homemaker who returned to college in her late 30s, Mary attended San Fernando Valley State College (now CSUN) from 1960 to 1963, earning a bachelor's degree in art and a teaching credential. Mary Bayramian went on to teach art at nearby San Fernando High School, where she was affectionately known as "Mrs. B."

In 1971 at age 50 they both retired after Jack was injured on the job. They moved to Laguna Beach in Orange County and lived there another 30 years, investing, improving and managing real estate, and settling in an ocean-front home.

The Bayramians led an extraordinarily active life. Mary was an active cook who authored and published cookbooks. She designed and created her own jewelry, painted and played golf well into her 70s. Their nephew and trustee, Don Barsumian, described Jack as the unofficial greeter of Laguna Beach and a "firecracker" who in his younger years was an avid handyman skilled in electrical, carpentry and concrete work.

Mary and Jack passed away in November 2002 and January 2005, respectively. Following Jack's passing, CSUN was informed by Barsumian that the couple had donated their entire $7.3 million estate by bequest to expand student scholarships, marking at the time the largest cash and alumni gift in the university's history.

The Bayramian Family Scholarship Endowment Fund now supports two major new programs:

The earnings from $5 million of the endowment will fund the newly named Mary and Jack Bayramian Presidential Scholars and related scholarships within the university's premier Northridge Scholars Program. The Bayramian Presidential Scholar awards, the most prestigious granted by the university, are now awarded each year to high-achieving upper-division students through a competitive process. Recipients partner with faculty members on scholarly projects. The scholarships include a $5,000 award, bookstore discount, priority registration and other perks.

Earnings from the other $2.3 million fund the Mary Bayramian Arts Scholars. These scholarships will support upper division and graduate students involved in the new Valley Performing Arts Center at Cal State Northridge through a class project, coursework, internships or related activities.

"Because Aunt Mary graduated from Cal State Northridge, she had a great feeling for the university," said Don Barsumian, "I think she had a real love for young people and for education. Mary believed in education and she wanted to help. This was her way of helping."

To learn about options for planning your own gift, please contact us.