Dave and Cindi Malone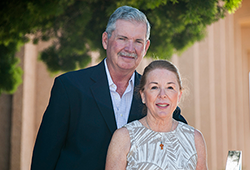 Dave Malone '81 (Accounting) grew up in New York as a die-hard Yankees fan, with plans to become a professional baseball player. An arm injury his senior year of high school ended that dream and sent Malone searching for new purpose.
"I was in the bottom 10 percent of my high school class — I don't think I ever opened a book," he said. "I thought, 'What am I going to do now?'"
Coming to California in search of work turned out to be a move that changed Malone's life. He found his way into the banking industry, and then enrolled at CSUN, where he earned his bachelor's degree in accounting and courted his wife. Now, he's giving back to help future Matadors.
As a student, Malone took 12 units per semester at night. He has many fond memories of the CSUN campus, and most of them involve his wife, Cindi. The couple met while working at a bank, but their courtship took place on campus.
"Between working and studying, the only way David and I could date was for me to attend classes," Cindi Malone said. "We ate dinner every night at the top of Sierra Hall, weighing our salads because we were on a budget. It's flourished into 32 years of absolute wonderfulness."
Dave Malone said he chose to become a donor because as an alumnus, he can help other students and alumni just entering the workforce.
"I remember going to work for a big firm after graduation and thinking, 'How am I ever going to compete?'" he said. "There were a lot of people from private schools, and here I was, a kid who went to night classes at CSUN. But I learned that this firm recruited heavily from CSUN, and we ran circles around everyone else because we were better equipped to be successful at our jobs."
The Malones decided to support the university through a planned gift.
"Like many people of my age, I hadn't given a lot of thought to estate planning — most people don't want to think about their own mortality," he said. "But I wanted to help CSUN, and over the course of an hour, it was all set up. It was really an easy decision."
"You see what these students have done with their lives as a result of having been given an opportunity, and it's overwhelming," Cindi added.
If you would like to learn ways to make an impact for CSUN with a planned gift,
please contact June Penrod, Director of Planned Giving, for a free, confidential conversation by clicking here
.