Bartley Porter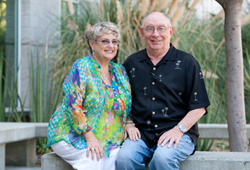 When Bartley Porter graduated from San Fernando High School, he had two options: go to California State University, Northridge or take a job at the automobile plant in Van Nuys. He picked the job at the plant, but, while waiting to hear back about starting his job, Bartley decided to take some classes at CSUN. The auto plant never called, and a few years later Bartley had his bachelor's degree in recreation.

Bartley, who graduated in 1967, went on to work for the City of Los Angeles and later as a civilian for the Department of the Army. Bartley managed youth and recreation programs at U.S. Army installations in Frankfurt and Stuttgart, Germany; the Presidio of San Francisco; and retired from the federal government after 30 years service as the athletic director at Oakland Army Base in Northern California.

In his 30-year career with the Army, Bartley managed youth and recreation programs at the Presidio in San Francisco; multiple bases in Germany, where he spent more than eight years; and Oakland Army Base.

When Bartley and his wife, Dixie, were helping her parents organize their will, the couple realized that they should update their own as well. Bartley had been considering making a gift to CSUN and thought that including CSUN in their newly drafted trust might be the best way to do it.

"The degree from Cal State Northridge in recreation opened a door for me," he said. "I am forever grateful to the university because it's made my life so interesting and so nice. I never expected it." Bartley and Dixie contacted CSUN's planned giving staff, learned about their options for giving and included the appropriate language in their trust to leave funds to CSUN for scholarships supporting recreation students.

"I am a first-generation American from an Irish background," said Bartley. "I didn't have any guidance to go to college, and I am sure there are a lot of kids like me out there. If I can give some money so a kid like me that has some potential can have help financially, that's what I want to do."

The process of including CSUN in their trust renewed the couple's connection to CSUN. Bartley now serves on the College of Health and Human Development's Dean's Circle and participates in volunteer activities like Professor for a Day, an event that brings professionals back to campus to teach a current class.

Dixie and Bartley like being involved with CSUN and the relationships they have made through the campus. "We've enjoyed meeting people of like minds and finding out what's going on here because we care about what's going on here," said Dixie.

In addition to the satisfaction of helping students, the Porters also like knowing where their money will go. "It feels good to have our plans made," said Dixie. "Why should somebody else decide? We earned our money penny by penny, and it's nice to designate where it's going ourselves. We've got it divided so that our sons will be taken care of no matter what happens and, in addition to that, there's money for the school. It makes your life a little more worthwhile if you can help somebody else out. So much has been given to us, and we feel it is now our turn to give something back."

If you would like to learn more on ways to leave CSUN in your estate plans, please contact June Penrod, Director of Planned Giving, for a free, confidential conversation by clicking here.