Heritage Society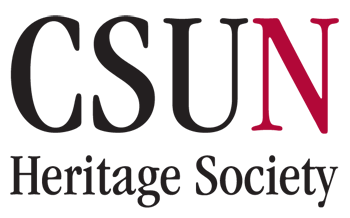 The CSUN Heritage Society recognizes and honors alumni and friends of California State University, Northridge, and San Fernando Valley State College who have made a financial commitment to CSUN's future through their estate plans. While traditional cash gifts are invaluable to the university today, planned giving is a crucial investment in our university's commitment to be relevant, responsive and ready for the future.
To become a member, and receive exclusive benefits and event invitations, please
click here
and complete the application . Please feel free to
contact us
with any of your questions.
Heritage Society Steering Committee

David Malone '81 – Chair
Jeanne Adams '65, MA '74
Raymond Calnan '03
Adina Calnan '04
Dennis DeYoung '87
Alfred J. Gorman
Deanna Gorman
Carson Schreiber '69
Recent Heritage Society Events
Please click here to experience the 2016 President's Donor Appreciation Luncheon.

On March 3, 2015, more than 200 alumni and friends gathered for CSUN's President's Donor Appreciation Luncheon. The group consisted of members of CSUN's President's Associates and Heritage Society, who were invited for a beautiful showcase of student talent and testimonials.

Mary Ann Ferrer '16, the recipient of the Betty and Charles Leach Scholarship, spoke of how the scholarship from the Leach's generous planned gift enabled her to pursue her dreams in geology. Her message resonated with the Heritage Society members in the room, who have made a similar legacy gift for the future. Mary Ann was introduced to the group by David Malone, '81, the Heritage Society Steering Committee Chair.

Dalia Rodriguez M'16, the recipient of the Maro Donabedian Memorial Scholarship, was introduced by Anne Payne, '65, the President's Associates National Chair. Dalia sang a rendition of a piece from the opera Carmen, and illustrated how she was able to develop her beautiful talent thanks to the generosity of President's Asosciates members, who contributed to the scholarship.

Dr. Robert Gunsalus, President of the CSUN Foundation and Vice President for University Advancement, spoke of the success of CSUN and the university's recent achievements nationwide. The luncheon was a wonderful opportunity for old and new friends of CSUN to meet and celebrate together. Please click here to view photos of the event.

2014 Heritage Society Appreciation Luncheon
On April 10, 2014, members of the Heritage Society enjoyed a lunch on campus, hosted by President Dianne F. Harrison. Guests enjoyed a program that included a message of gratitude from President Harrison as well as two students who presented testimonials on how scholarships from a planned gift has made an impact on their journey at CSUN.

Please click here to view photographs of the event. If you are interested in learning more about this society, please don't hesitate to contact me. I would be happy to share with you the ease in joining this group.