CSUN Alumni Dennis and Carrie DeYoung Discover the Ease of Estate Giving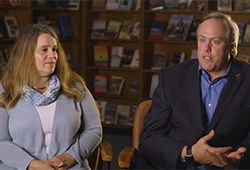 Dennis and Carrie DeYoung love the San Fernando Valley. They've lived in the Valley their entire lives, first meeting while doing community service projects through the 4-H Club, and have raised their family here.
California State University, Northridge also plays a big part in their memories. Dennis recalls being at CSUN every year of his youth. "The North Campus used to be called Devonshire Downs and was the location for the San Fernando Valley Fair. Carrie and I both spent a week every year in August there with 4H." Both Dennis and Carrie graduated from the university within a year of each other (Carrie with a bachelor's degree in finance/human resource management in 1986, Dennis with a bachelor's degree in finance in 1987). Dennis, an independent financial planner, works within walking distance of the CSUN campus.
THE CSUN CONNECTION
During their time at CSUN, the DeYoungs were involved on campus — both were elected chair of the University Student Union (USU) in their respective senior years, despite also working 25 to 30 hours a week. They both wanted to feel a sense of community on campus, and their work in clubs and organizations was influential in shaping their CSUN experience.
After graduation, the DeYoungs used the skills and connections they had made at CSUN to move on to exciting careers. Carrie has worked for a number of influential companies, using CSUN's Campus Career Center to find a job with Procter & Gamble as a sales representative in the Paper Products Division, UCLA as a human resources assistant, and The Walt Disney Company as a recruiter and senior relocation coordinator. She currently serves as the director of agility for the American Kennel Club.
"Those experiences outside the classroom are what really helped me and contributed to what I do now," said Carrie. "When I was here on campus, I held a lot of leadership positions, but the most important one to me was chair of the University Student Union. What I did then feeds into my job now. I was able to take that experience and transfer it. It really is true: The degree is important — it opens lots of doors for you — but it's being that whole person that really gets you to that next step."
THE GIFT THAT COST NOTHING
"Philanthropy was an important tenet in my family when I was growing up," said Dennis. "My mother and father were both active in the community, and I think nowadays there are a lot of opportunities to be active and give back to the local causes you love."
The DeYoungs have targeted their giving to benefit areas at CSUN they most value. They have established endowments in both Business and Athletics. But Dennis, with nearly 30 years of financial planning experience, also likes the ease of making a gift through their estates, such as through retirement plans.
"With life insurance policies, annuities, retirement plans, 401Ks, IRAs, all these kind of plans, you can name a specific beneficiary," he explained. "You can even name beneficiaries for specific percentages of the account — you can say, 'I want 50 percent to go to the university and 50 percent to go to somewhere else.' There's no cost. It's simply a form you can get from the entity that holds your retirement account. You may even be able to find the form online. It's true that the gift doesn't accrue to the university until you pass away, but because CSUN is nonprofit organization, the Internal Revenue Service won't tax the gift itself so 100 cents of every dollar go to whatever you designate on campus. If an individual received those assets, regardless of their age, it's 100 percent taxable by the IRS and state."
And it doesn't matter how much is in those accounts, according to Dennis. "It doesn't matter whether there's $1,000 or $100,000 — anybody who has a retirement account is a potential donor. Over time, those accounts will grow, especially if you continue to add to them."
This type of support is vital for students today, who face higher costs with less help from the state. "When we went here I think the tuition was $1,000 to $1,500 per semester, but now it's substantially more than that," Dennis said. "Student loan debt is a huge problem nationwide, and I think having more scholarships, more endowments and more options available for students is a great investment in our future. Every little bit counts."