Al and Sherry Lapides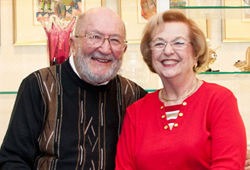 The story of Al and Sherry Lapides mirrors that of CSUN. When the university was being built in the mid 1950s, the young couple lived nearby and were just starting their life together. After serving in the Air Force during the Korean War, Al, an engineer by training, found himself working in the business side of the industry. He quickly realized that he "knew a lot about engineering, but not a thing about a balance sheet or a profit-loss statement"—so he enrolled in business courses at UCLA and USC. When CSUN opened in 1958, Al decided to take classes closer to home. "I took my bike at night after dinner and rode a mile over to campus," he remembered, "... and took a class, then another class and next thing you know I was only a couple classes away from getting a degree."

Al eventually earned an MBA and teaching credential from CSUN and those degrees started a decades-long love affair with the school. Soon after he graduated, Al joined and then led the President's Club, the precursor to today's President's Associates. Over the years, the Lapideses became increasingly more involved with CSUN, serving on numerous boards and committees. Al is currently a member of the CSUN Foundation Board and was the past chair of the CSUN Heritage Society, the group of alumni and friends who have included the university in their estate plan. Sherry serves on the Dean's Council of the Mike Curb College of Arts, Media, and Communication. They both participate in the Dean's Council of the College of Health and Human Development as well as the President's Associates and are lifetime members of the CSUN Alumni Association.

A decade ago, CSUN took on another crucial role in the family's life. After being injured in a serious accident, Al started attending sessions at the CSUN Center for Achievement (COA), an aquatic and land-based therapy center run by the CSUN College of Health and Human Development. He credits the COA and it's dedicated staff and students with teaching him to walk again after the accident. In 2004, the couple was honored for all their service with CSUN's Dorothea "Granny" Heitz Award for Outstanding Volunteer Leadership.

In addition to their time, the Lapideses have also given back to CSUN financially. They have created several endowment funds and helped build the Valley Performing Arts Center. They have also included CSUN in their estate plan and actively encourage others to do so through their work with the Heritage Society. As Al says, "The basic need of the university is for dollars now... but at the same time we have to plan out for the future ... and this is where planned giving, both while you are alive and in your estate plan, is so important."

For most people, large-scale charitable giving is out of reach. But planned giving allows friends of the university, at any income level, to have a significant impact. As Sherry shared, "We have three children. So, if each gets 33 percent instead of 33 1/3 percent of our estate, it's not going make a bit of difference to them, but that one percent can make a difference to the university. That's why we are very much in favor of planned giving."

As Sherry alluded to, many planned gifts are portions of an estate, the amounts of which aren't known until the estate is finalized. But some donors have disclosed specific amounts that will be given from their estate. With just those commitments, CSUN has raised more than $27 million in planned gifts that it hasn't yet received, which "is as important as raising $27 million today," according to Al.

In addition to including CSUN in their estate plan, the Lapideses have also donated appreciated stock to the university, a particularly appealing way to give because of the tax implications. As Al explained, "If we give the stock to the university, we get to deduct the full fair market value of our gift. And, because we never sold the stock, we don't have to pay any capital gains taxes and CSUN doesn't have to pay any capital gains taxes either, because it is a nonprofit charity. So, it's very, very nice for all involved."

CSUN has benefited from the Lapides' generosity in innumerable ways. But, their motives aren't entirely altruistic. "We've given, but I think we have derived more satisfaction from the giving than anything else," said Sherry. "It's a selfish sort of thing if you look at it in one way. We get pleasure from being able to do what we have done so far, and so the university benefits and we do, too—a win-win situation."

*We are saddened to report that Al Lapides passed away on June 14, 2015. He is survived by Sherry, his wife of 58 years, and his three children, eight grandchildren and three great great-grandchildren.

To learn more on how you, too, can make a legacy gift, please contact June Penrod, Director of Planned Giving, for a free, confidential conversation by clicking here.